1452 West Old Hwy 40. Odessa, Missouri 64076
Site Plan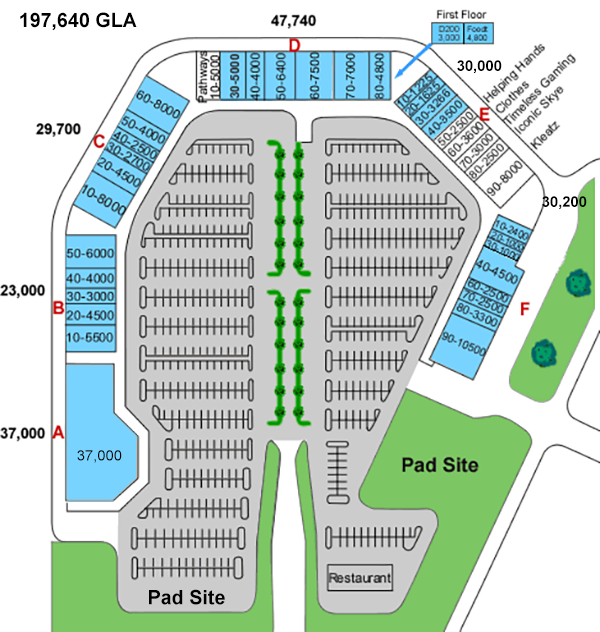 Property Overview
Sunrise Market Grocery
1212 (816) 633.4700
Lafayette Regional Health Center
1280 (816) 633-5774
Plum Creek Wholesale Home Decor
1316 (816) 653-2249
LinCare Medical Billing Office
Pathways Community Behavioral Healthcare, Inc
1278 (816) 633.5921
Odessa Urgent Care
Clothes Closet
1324 (816) 633.5600
"COULD BE YOU"
The Centurian Gallery
300,000 square foot plaza
Anchored by The Sunrise Market Grocery Store.
Traffic count of 45,000 vehicles per day.
Expansion potential of 500,000 square feet
Extensive billboard program which we recently implemented.
Own off ramp directly from I-70 and located 20 minutes east of Greater Kansas City in an area of explosive residential growth.
We can accommodate any size space and additionally, have outparcels available for building.
PROPERTY FACTS
300,000 ft2
GROSS LEASABLE AREA
100.00% garciga Owned
% LEGAL OWNERSHIP
500,000 ACRES
EXPANDABLE AREA
| | | | | |
| --- | --- | --- | --- | --- |
| Population | 1 Mile | 3 Miles | 5 Miles | 10 Miles |
| Total Population 2022 | 481 | 6,323 | 8,728 | 28,167 |
| Estimated Population 2027 | 467 | 6,305 | 8,764 | 28,978 |
| | | | | |
| Households | | | | |
| Total Households 2022 | 201 | 2,428 | 3,332 | 10,418 |
| Total Projected Households 2027 | 196 | 2,427 | 3,361 | 10,751 |
| | | | | |
| Household Income | | | | |
| 2022 Avg Household Income | $74,266 | $72,795 | $78,276 | $80,657 |
| 2022 Per Capita Income | $31,454 | $28,091 | $29,982 | $29,925 |
| | | | | |
| 2022 Median Age | 36.8 | 37.5 | 39.1 | 39.4 |
Ask us about this property