357 Tanger Blvd. Seymour, Indiana 47274
Site Plan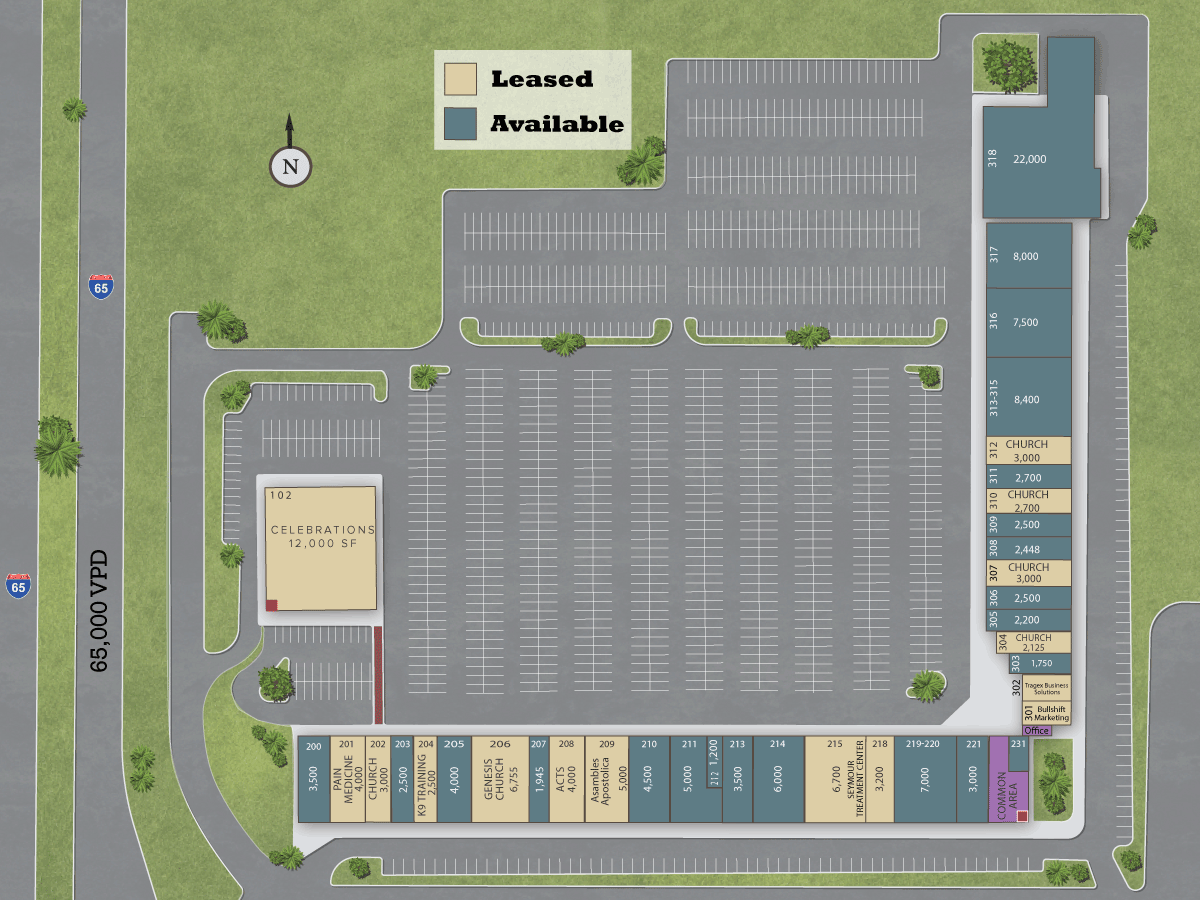 Celebrations
(812) 569-3843
Blueshift Marketing
Seymour Treatment Center
Tragex Business Solutions
Asambles-Apostolica
Genesis Church
(812) 756-8475
Apostolic Assembly
of the Faith in Christ Jesus
Livingfire Ministries
(812) 528-1886
Actors Community Theater of Seymour
(812) 521-3821
Assembly of God New Jerusalem Church
(812) 216-8459
New Life Apostolic Church
(317) 546-4564
Pain Medicine
K9 Training
Latino Pentecoastal Church
(812) 521-3859
165,000 square foot entertainment center.
Anchored by an 8 screen movie theater
63,000 vehicles per day. T
9 hotels and Wal-Mart Distribution Center in the immediate neighborhood
60 miles south of Indianapolis, 50 miles north of Louisville and 90 miles east of Cincinnati.
Draws commuters traveling between Indianapolis and Louisville as well as visitors to the Kentucky Derby and the Indianapolis 500.
Offers great interstate frontage and sits only a few yards from I-65, providing highly visible exposure.
40 acre outparcel available for building.
Crossroads of two major highways,
The center also draws on vacationers heading south from Indianapolis, Chicago, and Michigan. Local attractions include The Indiana University athletic games, historic landmarks, national and state forests, recreational activities and cultural sites that attract over 500,000 visitors every fall.
Traffic count of over 63,000 vehicles.
2.3 million population within 60 miles.
Parcels available for sale or lease.
Expansion opportunity to 350,000 s.f.
Units from 1,200 to 12,000 s.f.,
Access off of I-65 (at Hwy 50), the area's primary north – south interstate artery
Competitive Lease Rates.
PROPERTY FACTS
165,000 ft
2
100.00% garciga Owned
% LEGAL OWNERSHIP
350,000 ft
2
EXPANSION POTENTIAL
63,000 VEHICLES
TRAFFIC COUNT
8 SCREEN CINEMA AND 3 HOTELS
ANCHORS
| | | | | |
| --- | --- | --- | --- | --- |
| Population | 1 Mile | 3 Miles | 5 Miles | 10 Miles |
| Total Population 2022 | 1,250 | 16,708 | 26,272 | 38,853 |
| Estimated Population 2027 | 1,309 | 17,368 | 27,154 | 39,994 |
| | | | | |
| Households | | | | |
| Total Households 2022 | 529 | 6,735 | 10,444 | 15,217 |
| Total Projected Households 2027 | 560 | 7,036 | 10,857 | 15,769 |
| | | | | |
| Household Income | | | | |
| 2022 Avg Household Income | $79,395 | $64,334 | $74,026 | $74,739 |
| 2022 Per Capita Income | $33,584 | $26,098 | $29,594 | $29,393 |
| | | | | |
| 2022 Median Age | 37.4 | 35.6 | 37.4 | 38.8 |
Ask us about this property